Blog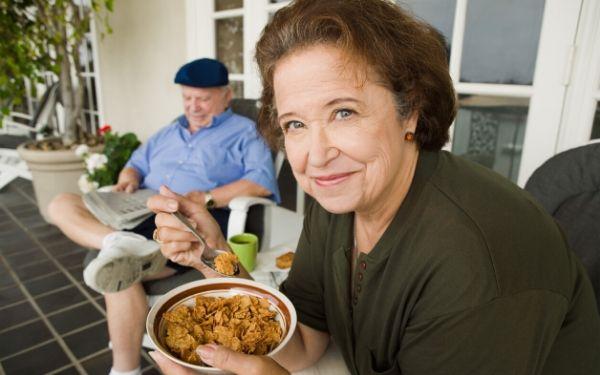 The Importance of Nutrition to Older Adults
Mar 04, 2020
Most of us know that eating healthy foods is an important part of staying well. But, did you know that our nutritional needs change as we age?  
We change as we grow older in ways that influence how our bodies work. Perceptional changes, such as hearing, smell, and taste, may alter the way we eat and the foods we choose to consume. 
Physiological changes that occur later in life, including energy levels and mobility can also influence nutritional intake. And, the condition of our teeth and the gastrointestinal system can be factors in nutrition.
All of these changes as we age can affect the amount of nutritious foods we eat. That is why malnutrition is a growing issue in seniors, with 3.7 million who are malnourished in the United States. Seniors and their caregivers need to understand the specific dietary needs of aging populations.
Malnutrition in Older Adults
Malnutrition is caused by undernutrition, nutrient deficiencies or imbalances. It can look different depending on the individual, and vitamin deficiencies can vary. Doctors may recognize malnutrition symptoms as loss of appetite, malaise, or lack of interest and wellness. 
Often, malnutrition in seniors is caused by an inadequate intake of vitamins A, B, C, D, and E, folic acid, calcium, and niacin. 
Socioeconomic factors may also prevent a person from getting enough nutrition. This may include financial concerns, fear or inability to leave the house and grocery shop, lack of interest in cooking or eating alone, loss of a spouse or family member, and others.
Improving Nutrition for seniors
Good nutrition is a key factor in staying healthy and independent. Focusing on healthy eating habits and designing a diet that reflects a senior's nutritional needs and personal preferences can be a successful way to prevent malnutrition. 
Health professionals recommend following a preventative health maintenance nutritional program. Here is what is recommended for seniors to maintain healthy daily nutrition.
Fruits: 1 ½ to 2 ½ cups

Think about a two-inch apple or a quarter cup of dried fruit.

Vegetables: 2 to 3 ½ cups

Try two cups of uncooked leafy greens.

Grains: 5 to 10 ounces

This could be a slice of bread, a cup of flaked, ready-to-eat cereal, or ½ cup of cooked rice.

Protein: 5 to 7 ounces

In addition to meat, you could also try an egg, beans, tofu, or seeds.

Dairy: 3 cups of fat-free or low-fat milk

A cup of yogurt or 1 ½ to 2 ounces of cheese will work as well.

Oils: 5 to 8 teaspoons

Foods such as olives, nuts, and avocadoes have a lot of oil.

Solid fats and added sugars: Keep these amounts small.
The Importance of Nutrition to Older Adults
Getting the proper amount of nutrition is important for seniors. But, sometimes, it isn't easy to eat all of the healthy foods we should daily. Factors such as finances, mobility, and transportation can make it hard to get enough nutritious foods.
Luckily, there are solutions for seniors who have a hard time purchasing and preparing healthy meals. Home meal delivery services such as Meals on Wheels provide seniors with healthy meals delivered right to their doors. 
Meals are approved by a licensed dietitian and cater to a variety of tastes and nutritional needs. Delivery drivers perform wellness checks to look for signs of change or home safety issues. Meals are also affordable, so even if a senior is on a tight or fixed income, they may be eligible for funding to receive meals. 
No senior should have to worry about being left hungry and alone. If you or someone you know would like to try home-delivered meals, contact Meals on Wheels of Northeast Ohio at 330-515-5605 to get started in Stark, Summit, or Wayne County.